Fabrication sur mesure (OEM)
Swiss Fittings has evolved into a sustainable supplier and distributor of OEM cast/forged products, finding a perfect balance between quality and price.
Manufacture processes include precision machining, CNC milling, CNC Lathe, investment casting, sand casting, forging and die-casting for prototype and volume production.
Swiss Fittings has a wide product portfolio, offering products in various different materials including, stainless steel, alloy steel and carbon steel.
Swiss Fittings manufactures for you in Asia and can store your items in Europe, insuring a "just in time" delivery. Please upload your OEM inquiry below.
All information uploaded is handled confidentially.
What does OEM mean?
OEM standards for Original Equipment Manufacturer, and are custom made products according to unique dimensions and are none standard. Usually the OEM item is a physical part installed in a larger component, such as a filters, pumps, bathroom installations, agricultural equipment and fluid tanks. Swiss Fittings has the capabilities to provide products in large and small quantities made from various materials according to dimensions and drawings. Simple projects, such as stainless steel barrel nipples or welding nipples in special lengths with NPT threads, or complex projects such as a stainless steel kitchen component and custom sanitary valves, are no challenge for us. We have "state of the art technology" for casting and forging, and can make an offer within 2 days.
OEM Parts Directly Produced in Europe, America, or Asia
Small quantities of unique items can be produced and machined directly in Europe. Stainless steel seamless pipes and stainless steel welded pipes can be cut into the demanded length and threaded within a few days. Besides the standard ISO7-1 thread we can also thread stainless steel fittings with NPT threads.
Larger quantities that need to be casted or forged can also be delivered directly from production. Recent projects include stainless steel filter and pump components, unique carbon steel flanges, and stainless steel welded tanks. We delivery OEMs directly DDP (Delivered Duty Paid) within Europe, United States, Australia and Switzerland.
Precision Lost Wax Casting, Machining and Polishing of Stainless Steel Components
Most of the items, such as stainless steel fittings and stainless steel valves, are manufactured through a process called precision lost wax casting. In this processes the first step is to create a computer image of the finished product. With the virtual 3D CAD the outer dimensions mold (negative) of the desired object are created. This negative mold is hollow and will then be filled with wax. The wax hardens and is detached from the negative mold, becoming a positive. During this process, it is possible to still make small adjustments to the wax, which will then be visible in the end product. After the wax negative has been inspected, it is covered with a water/sand mixture called stucco. The wax and also the outer layer of sand hardens and is then heated to make the wax flow out of the part, leaving only the hollow sand layer. The hollow sand layer has become a negative, in which liquid metal is poured. After the metal has hardened the outer layer of stand is detached, completing the casting process. The finished casted item can then be machined by drilling holes with threads or can be polished and connected to other components. The lost wax casting method, is a popular method to produce stainless steel fittings, press fittings accessories and valves.
Forging of Stainless Steel Parts
Usually items that must hold high pressures are made through the processes of direct forging. Our stainless steel lapped flange, weld neck flange, blind flange, flat flange, and threaded flange are produced through forging. Other standard items that are forged are 3000Lb forged stainless steel fittings and high pressure filter components. In this processes of forging, the metal is pressed and shaped through local compressive forces. The compressed forces directed onto the metal part can be delivered with a mechanical power hammer. Forging can be conducted while the items are either cold or hot.
Recent OEM and Direct Delivery Examples:
Below are examples of recent Swiss Fittings OEM and direct delivery projects. Swiss Fittings has obtained permission by these clients to publish the information. No uploaded inquiry information will ever be published or released to third parties without the client's approval. We understand the importance of confidentiality for maintaining a sustainable operation. The cases below are non-binding examples.
Delivered 150,000 FOB Shanghai at 0.325 USD each. Delivery 90 Days. Delivery: Mid 2015. Groove ball bearings are used in many different industries and applications. The simple structure is reliable at high speeds and reduces the rotational friction. Items were delivered from China to Europe by rail.
Type
Boundary dimension (mm)
Basic load ratings(KN)
Liminting Speeds(r/min)
dxDxB
Dynamic C
Stastic C0
Grease
Oil
6202 2RS
15x35x11
7.8
3.75
55577855
Swiss Fittings has delivered stainless steel polished nipples in special thread lengths to South America. The nipples were in SCH40 size 1/2" length 80 mm, stainless steel 304. Delivery time was 90 days and items were packaged separately with the client's logo on them.
Swiss Fittings received an inquiry for an adapter, that has one male thread in NPT 1/4" and one female thread in ISO7-1. Swiss Fittings delivered these items to Florida by air freight 75 days after receiving the initial inquiry. The order quantity was 89 pieces, in 1/4" sizes. The client supplies to the maritime industry. Therefore, it was highly important that these items were 316Ti indicating that there is titanium in the alloy. This makes it even more resistant to corrosion than stainless steel 316. The adapter was used for one particular project for which it was important to have a very long with a larger wall thickness, adapter.
Swiss Fittings supplied 45 pieces of Rant Toothed Gear Wheel, in Material C45, at a DDP prices of 53.73 € in Mid of 2016. Producing all 45 pieces took 39 days. Total teeth on the spur gear was 50, with a width of 50 mm. Outer dimension was 260 mm, with a tooth quality if 8d25, DIN 3967. Weight per piece: 20.67 Kg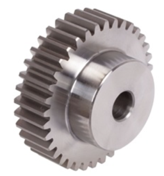 Swiss Fittings supplied parts for a full set of home brewing set. When using stainless steel fittings, tubes, and tanks for food processing, it is highly important that these parts can be cleaned. The supplied stainless steel tanks can hold 75 liters each and were connected through sanitary fittings and valves. The client further requested for Swiss Fittings to stock spare parts for the brewing system, in order to always provide a "just-in-time" delivery.
Swiss Fittings has delivered stainless steel forged round bars DDP. Bars were in 6 meter lengths (5") and ultrasonic tested.